dashLicious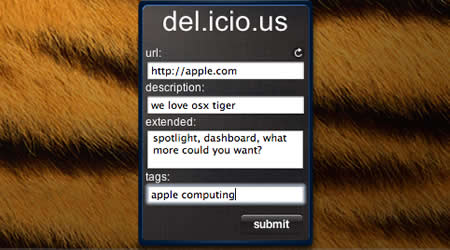 dashLicious has some more features. as always, it implements a post to your del.icio.us account on the fabulous web service created by Joshua Schachter from either your browser or the outstanding NetNewsWire.
what's new (1.5): tweaks and a browser:
with osx lion coming along dashLicious needed a couple of tweaks to keep things rolling. and while the hood was open, why not add google chrome support. you can never support too many browsers.
you should decide what you want public and what you don't. in dashLicious v1.4 just check the new box in the interface to select privacy. and you could do that with another cool new feature - keyboard shortcuts. flip to the reverse of the widget to see what they are (building the suspense).
did you know that del.icio.us only lets you have 255 characters in your extended field? well, now dashLicious will help you keep track of how much you're typing with a counter. handy, eh?
users of NetNewsWire may not know but it has a great new feature keeping track of the feeds to which you pay most attention. now, whenever you post something from dashLicious that you were looking at in NewNewsWire, dashLicous tells it (they're on very close terms) that you did and it should pay attention.
couple of other minor things with fixes for issues introduced in os x 10.4.7 and better language support
classic features:
great autocomplete. when you first launch the widget, it connects to your del.icio.us account and retrieves all your tags. then when you start typing in the tag field of the widget, it will make suggestions based on what you are typing. you can navigate these choices by using the arrow up/down keys on your keyboard then press return to select. this should speed up your tagging.
NetNewsWire smart source detection - it will intelligently detect whether you are looking at a web page within nnw, a feed or nothing at all.
and of course, dashLicious still supports all these lovely browsers:

download dashLicious